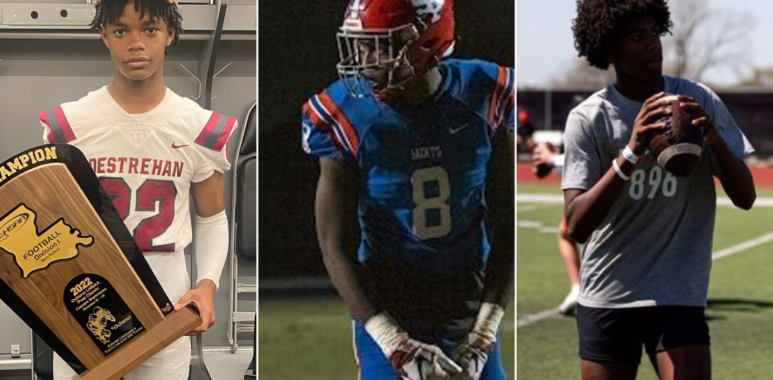 Class of 2026
Football
High school
National Combine
2026 is Raising their Stock at the National Combine
Anthony "Tank" Jones, Edge, 6'4" 215lbs, St. Paul's (AL)
The award of the highest ascension among recruiting boards goes to…Anthony "Tank" Johnson. Everyone is talking about him and rightfully so. He looks the part, can do whatever he's needed to do on the outside…we know he can do what's needed on the inside. The word that comes to mind is – effortless. But, that's one the great ones do. They do things the rest of us strain to do and the 1%ers, like Jones, just do it. He has offers from MSU, Vanderbilt, UAB, and South Alabama. Call us crazy but that list will be vastly different by the time the weather warms back up.
Romin Seymour, QB, 6'5" 195lbs, Manvel (TX)
How does a giant '26 QB improve stock so much already holding offers from Texas A&M, and Houston? You show up, look the part and rarely miss a throw. Not to mention, we were already impressed with the movement and agility, but that continues to improve. He looks fluid. We ranked him as the #15 QB prospect prior to the combine. He certainly did himself a favor by showing up.
Kail Ellis, OL, 6'4" 285, Cass (GA)
On3's Jeremy Johnson posted the most watched video of the combine…a 1v1 pass rep. At press time, it had over 54k views on Twitter alone. While there was debate as to necessary roughness of the play or would it have been legal in a game situation, Ellis displayed rare physicality and went on to show further dominance using more of his feet. We wrote about Ellis being the next big thing coming out of GA at OL last week, rating him as a Top 5 OL prospect in the state. As Ellis becomes a household name, someone is going to offer sooner than later.
Jabari Mack, WR, 6' 175lbs, Destrehen (LA)
A track phenom, varsity football starter who can absolutely take the top of a defense. Mack is fluid, has good ball skills & did we mention, he can fly? The buzz around this prospect is only going to grow. His offer list this time next year is going to be as long as he is fast.
Brody Jennings, DB, 6' 160lbs, Sandalwood (FL)
Already with offers from Georgia Tech, Maryland and others, it's hard to say he's "unknown." Rather we'll say, he's bursting on the national radar. Long, lean, and can defend the deep ball as well as the 90 game. A Varsity starter his Freshman campaign, his offer list is about to expand.