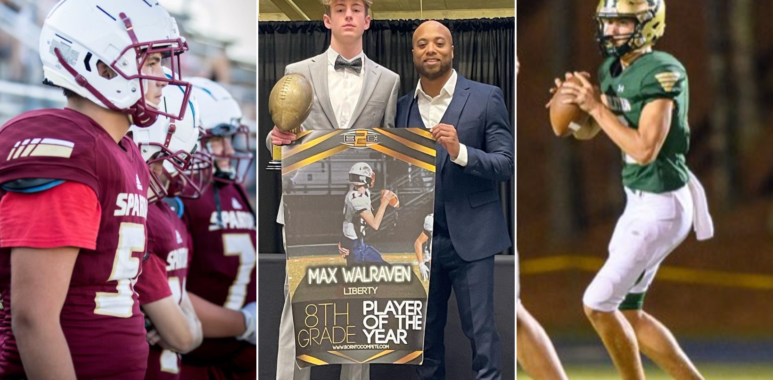 Class of 2026
Football
Georgia
High school
Next Man Up – Georgia Edition #2
Chris Nunn, DB, Parkview, 6'2" 175lbs
Nunn, another long athlete, disguised primarily as a DB coming out of Parkview. He can cover; in fact, he has showing signs of being great in coverage. We see flashes of great instincts and an elevated cerebral game. He's a hitter. This is good news as we're projecting him to be somewhat of a strong safety, extra DB that comes down to play in the box. On top of all that, due to his unique skill set, don't be surprised to continue to see him moonlighting on the offensive side of the ball as a WR and helping his team in the return game on special teams.
Ben Mubenga, DE/OT, Buford, 6'6" 230lbs
What's more striking…another young standout on the Buford roster or another young standout with the last name Mubenga? The younger brother of 3 star & LSU signee, Paul, Ben will carve his own path & stand on his merit. He is long…on a 6'5" frame, it's as if his arms hang to his knees. This is more of a projection than it is based on production to this point, but in our opinion, he's a future SEC LT. You can teach a lot of things but you can't teach a wingspan that reaches from sideline to sideline. Being at Buford, sometimes it's a wait your turn type of thing. After all, it's Buford! That said, we fully expect a coming out party for the next Mubenga next fall.
Jayce Sanker, OT, South Paulding, 6'4" 250lbs
Continuing our OL lineage, Sanker is another younger brother of a recent signee, 4 star & Louisville signee, Madden Sanker to be exact. Madden grew a reputation as a physical punisher at the line of scrimmage while being almost impossible to beat on the wrestling mat. Jayce has his own game. Yes, there are signs he could follow in his brother's footsteps showing signs of nasty, but to this point, his build shows potentially more length. It's possible he winds up taller than his big brother and slides more to the outside where he played last year. Getting varsity reps, you could see growth every time Jayce took the field. Call me crazy, but don't be surprised if Louisville were to offer first.
Walker Kirkland, QB, Wesleyan, 6'5" 190lbs
Flying under the radar, Kirkland is next man up. He'll probably one day weigh 230lbs and still look slim. He's tall, but has a very nice tight throw. His ball has zip on it…zip while accurate. Last week he turned some heads at the Georgia Elite Classic due to size & ability. We feel confident this won't be the last time he turns heads. If anyone wanted to be the first to offer, a 6'5" talent at QB isn't that bad of a bet to make.
Max Walraven, QB, West Forsyth, 6'4" 185lbs
In no way are we saying he's Trevor Lawrence, but just turn on the tape and ask yourself what freshman QB also looked like this? Even if it were true, we wouldn't want to put those expectations on anyone. He's extremely accurate on the move…sprintouts, boots, etc – the ball is literally placed where it needs to be. When there's pressure, he gets his long strides going and gains ground quickly. As he continues to gain strength & his arm follows, we could be talking about a big time, big time, QB. With varsity starts now under his belt, watch Walraven explode on the scene nationally next year.
Darnell Kelly, QB, Langston Hughes, 6'2" 160lbs
Most likely the only reason this name is not more known is because the guy he's playing behind is a bona fide superstar in Prentiss Air Noland. Kelly won't have the stats or a ton of film to this point (although he does have quite a bit) but the talent is there. He's such an athlete we wouldn't be surprised to see him on the field in other roles next year, but make no mistake, Kelly is a QB. From what we've seen he's very comfortable running the RPO game. Whether it's a pull and take off or a pull and throw, he generally makes the right read & when throwing, he has an effortless flick of the wrist. The "flick" is what drew us in. Whether its a cross field throw or an escape to get the ball to the WR 30 yards downfield, it's a simply flick and the ball is there.
Josh Goshea, DT, Hardaway, 6'3 250lbs
Playing out of Columbus on improving 4A squad, Goshea is a central piece of the team's success in the future. Further, he's a central piece in the recruiting landscape for the class of 2026. He's morphing into the size of DT at the next level, already standing 6'3" and continually adding good weight. He's physical at the point of attack and gets ball carriers to the ground. Once he gets his big mits on you, you aren't getting away. We're looking at him anywhere from a NG to DT, but one thing is for sure, we're looking at production.
Jordan Carter, DE, Carrollton, 6'4" 230lbs
Visibility of his play won't be an issue playing alongside our top rated prospect Julian "Ju-Ju" Lewis on top of being coached by one of the best in the country, Joey King. Carter, to our surprise and from what we know, has no offers…yet. Playing along the DL, he certainly fits the mold of a future SEC star. Long, athletic with increasing speed and strength. Carter was productive for the Trojans in year 1 and potentially a leader on the team heading into his sophomore campaign. He's started to make the rounds at various programs. It won't be long until he's a household name & potentially one of the top guys in the country at his position.
Tyreek Jemison, OL, Paulding County, 6'4" 355lbs
Yes, you read that right. Jemison is a very large young man so size at the next level is of no concern. He has a ton a natural strength but he's just learning what all he can actually do which is an exciting thing for us as evaluators leaving him endless possibilities and a very high ceiling. As he continues to develop and gains more speed and agility, he's going to be a problem for Patriot opponents. We could see some early offers here due to size and natural abilities, but project his recruitment will really stack up with a good sophomore season and film to back it up.
Beau Ball, Cedartown, 6'4" 295lbs
Another young, big OL in NWGA. Ball is a developing, physical performer who contributed a ton to state runner-up, Cedartown. Playing for the bulldogs and their run-oriented offense, Ball will be making the trips this spring and summer to show what he can do in the passing game. But, playing for the bulldogs and their winning tradition, colleges know that Ball will come in knowing what it takes to be a champion. Given his size, he has continually shown improvement in flexibility and lateral movement leaving no doubt in our mind, it will continue. With continued training, Ball is another P5 type of player that will be on boards all over the southeast.