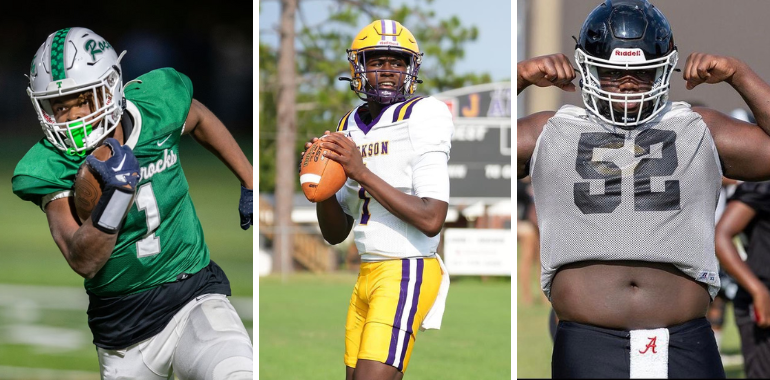 Class of 2026
High school
Ranked
1st & 10 – The First 10 Commits for the class of 2026
We have lauded the class of 2026 for some time now. It's quite possibly the most talented, deepest and most ready class we've ever seen with several key positions loaded. Early in the recruiting game, we've now hit the first 10 commits of the class with many more likely to come sooner than later. Let's take a look.
Alabama
Zykie Helton – 6'2" 325lbs, OL, Carrollton (GA) – While maybe not as known at the moment as other OL across the country, Bama has a good one and one sure to rise in the rankings in the near future. After a dominant camp performance, Bama locked up 1 of the IOL spots for the future.
Arkansas
Tay Lockett – 6' 165lbs, DB, St Johns Bosco (CA) – Deuce recruiting #1 ranked DB (7 overall), 1st team All American by Deuce & MaxPreps – ball player. Ball skills beyond his years, family ties to the state of Arkansas seem to be a big determining factor here, but nonetheless, the Hog is happy to gain his commitment.
Bear McWhorter – 6'4" 295lbs, OL, Cass (GA) – MaxPreps & Deuce 1st team All American, ranked the #4 OL (25 overall) and holding more offers than any other OL in the country, Coach Pittman hit the early jackpot with the additions of Lockett and McWhorter. While he lines up on the outside today, McWhorter has the potential to become a top tier IOL at the next level.
Florida State
Devin Carter – 6' 165lbs, WR, Cedar Grove (GA) – Another family connection, Carter's father starred at FSU. FSU is hoping to get the same out of Devin who is a Top 10 WR in his own right. Twitch, burst, route runner combined with a high football IQ, there was a celebration in Tally when Carter made his announcement.
Miami
Ksani Jiles – 6' 170lbs, DB, IMG (FL) – Top 15 defensive back nationally, Jiles shows early promise to a rise in stardom. Hailing out of national power, IMG, Jiles development will be top tier. So much so that even 3 years away, don't be surprised to see Jiles contributing early in Coral Gables.
Malachi Toney – 5'9" 165lbs, WR, American Heritage (FL) – We've seen this guy in person, live, and one of the many words that come to mind is special. MaxPreps & Deuce All American, Toney is as legit as they come. With precision route running ability, don't be surprised to see Toney as one of the best to come out of this class.
Ohio State
Chris Henry – 6'5" 185lbs, WR, Withrow (OH) – Henry is our #1 rated WR (4 overall) and shows early shades of a guy by the name of Randy Moss. His length makes him a matchup nightmare, speed makes him hard to cover down the sideline not to mention the route running, leaping ability – everything else that would make him our top pick. 1st team All American by MaxPreps & Deuce as well.
Penn State
Messiah Mickens – 5'10" 195lbs, ATH, Trinity (PA) – Projects more as a RB, but we listed him as an ATH because he can literally do it all. Further, he was ranked as our #1 ATH (30 Overall). Coach Franklin got a top flight player here and one that he can build a special class around.
Southern California
Julian Lewis – 6'1" 185lbs QB, Carrollton (GA) – He's a MaxPreps All American, rated #1 by Deuce back in January for his position and class and most recently rated #1 by two other national ranking services. He's got the Steph Curry touch on the football field. Trojan nation could see a slew of top ranked skill guys off this commit alone.
South Carolina
Landon Duckworth – 6'3" 190lbs, QB, Jackson (AL) – Duckworth sort of burst on the scene a short while back. We originally ranked him as the #13 QB and debated quite some time. He has glimpses of Cam Newton & KJ Jefferson. Big, athletic QB who can beat you with his arm, legs and runs with power. I don't think there's a Gamecock fan that will wind up unhappy with Duckworth under center. He has a very high ceiling and just scratching the surface of his potential.