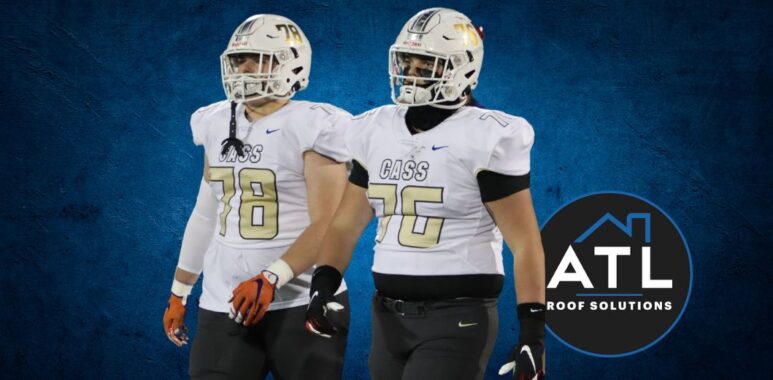 Class of 2026
Football
High school
Ranked
The Dynamic Duo: Cass Colonels' 2026 Offensive Linemen Garner Attention from UGA and Beyond
This article is sponsored by Atlanta Roof Solutions.
In Athens yesterday, the stars were out for the 7-on-7/Big Man Challenge series at the University of Georgia. Given what has gone on in Athens over the last couple of years, that certainly comes as no surprise. One brewing story that jumped out was the fact that two 2026 offensive linemen were offered…in part, they just happen to play for the same team – the Cass Colonels. By now, when you hear of UGA and Cass, you immediately think of 4-star athlete Sacovie White. White was an early commit to the Dawgs, and he has remained steadfast in his pledge for the 2024 class.
White's two younger teammates, 2026 Bear McWhorter and 2026 Kail Ellis, also have potential futures in Athens. In the world of "we called it first," Deuce Recruiting ranked McWhorter and Ellis as the #1 and #2 offensive linemen in the state back in February. Certainly, a lot can happen between now and 2026, and rankings change, but the writing was on the wall then about what they could become.
Cut from the same fabric, Ellis and McWhorter have the same school schedule, train together with our friends Josh Richardson and Luke Schultheissat at Velocity Football Academy, and both are honors students with 4.0 GPAs. Ellis anchors the right tackle position for the Colonels, with McWhorter at the left tackle spot. They both stand around 6'4″ and weigh between 290 and 295 pounds. At just 15 years old, they are far from reaching their full potential, both physically and skill-wise. They refer to each other as "twins."
We asked Ellis first about the offer itself; he said, "I was shocked. The back-to-back national champions offering me is surreal." McWhorter responded with, "The UGA offer was special. It's just a great feeling of hard work paying off."
Trying to get a little background on and off the field, it was apparent they are friends first, but they're happy to be playing together, celebrate each other's success, and yet still hold each other accountable. Ellis said, "Me and Bear first met in 7th grade when he and my brother played on a travel football team. I'm around him all the time. He's like a brother to me." McWhorter said, "We've been best buds since then, have all of our classes together, and hang out all the time." As they were talking about their friendship, it was interesting to hear how they critique each other. McWhorter said, "We're always correcting each other and keeping each other in check." Ellis agreed, "We push each other every day to our best ability." They both credit Velocity and all of their training they do with Coach Josh and Coach Luke, as well as Coach G, the offensive line coach at Cass.
So just how much of a difference is there? Deuce ranked McWhorter as the top offensive lineman in the state, #4 nationally for offensive linemen, and #25 overall. Ellis was ranked #2 in the state, #24 nationally for offensive linemen, and #162 overall. Combined, they have received 30 offers, with McWhorter having the most offers of any 2026 offensive lineman player in the country, and Ellis ranking in the top 12. McWhorter is about 0.25 inches taller and 5 pounds heavier, while Ellis has a slightly longer wingspan, bigger hands, and is built like a Mack truck. UGA became the 5th Power 5 team in the nation to offer both, following NC State, Georgia Tech, FSU, and Auburn. The difference is razor-thin, and the simple fact that so many schools are now offering both only validates that thought.
For a public school, they just might be the best pair of 2026 offensive line prospects on the same team you'll find anywhere in the country.
So do they want to continue playing together at the next level? Ellis said, "Playing in college with Bear would be amazing, but we both will always support each other's decisions." McWhorter said, "That's something we've definitely talked about…only time will tell, but that would be awesome."
On some level, their recruitment just started, but on another, it feels like it's gone on a while. So what's next? Ellis intends to focus on building relationships and doesn't have a specific timeline for narrowing down his options or committing. We found a difference! McWhorter, on the other hand, seems ready to proceed with a smaller list and plans to narrow it down next month. While he hasn't set a commitment date, it seems like he is actively working toward that goal.
Although the details are unknown, it is certain that both players will be suiting up for a team in the future. In the meantime, the Cass Colonels boast two exceptional bookend tackles who are the envy of many coaches for the next three years.