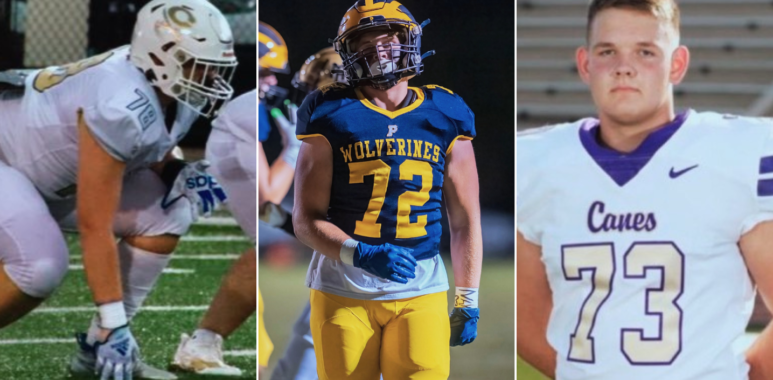 Class of 2026
Football
Georgia
High school
Next Man Up – Georgia Edition #1
Jude Cascone, TE, Marist, 6'2" 210lbs – Cascone, from a player perspective, is as good as they come at TE. Whether it was FBU, Georgia Elite Classic or elsewhere, someone writes something positive about this young man. He has very deceptive speed, above average size & really, really good ball skills. Given the offense Marist runs, you might not see a ton of what he can do in the passing game on a Friday night, but flashes are there. In fact, he's so good he found his way in the backfield as a FB/H Back to run the ball as well as on the defensives side playing DE and causing havoc. Coaches, he can also block! It will be interesting to see where he winds up, but we've never seen a game Cascone has played where he wasn't one of the best players on the field.
Mason Townsend, OL, PAC, 6'2" 240lbs – From youth all the way through the middle school ranks, Townsend was one of the best OL in the state of Georgia. He was always the first chosen of any FBU related event as well as one of the first 6 taken for the 2021 8th grade Georgia Elite Classic. In saying that, from a technical perspective, Townsend is most likely still one of the overall best OL in the state for 2026, if not the best. After all, he was a varsity starter for State Champion, Prince Avenue Christian. He plays with leverage, physicality and continually trains with one of the best OL guys in the state. We're a big fan of Townsend, even writing about what he did in the FBU/Adidas All-American Game where he gave up 40-50lbs per opponent and it didn't matter – Townsend is just that good. We see him potentially moving to Center to further aid in his recruitment. Some collegiate program is going to get a great player.
Langston Hogg, Center, Cartersville HS, 6'2" 255lbs – We have as much respect for Hogg as any kid out there – it's possible, he might just be the best moving OL prospect in the '26 class. He's very athletic as he can bend as well as he moves. Playing at a powerhouse like the Purple Hurricanes, he didn't see as much action at Center last year given there's a P5 center already there, but that's his position and certainly where he projects to be next level. The Canes did use him in other roles given his unique skill set. The only reason he didn't make our initial Top 102 was our height-weight matrix we used to grade prospects – everything else is there. He is a contender for the top Center in the state as it sits today for this class & most likely, in the future.
Nate Russell, QB, Cartersville HS, 6'2" 165lbs – While not necessarily being the starter, he came in and led a heroic comeback early in the year when the starter went down with an injury and filled in nicely as the season went on. What we know – Russell has a big, live arm. While he's continuing to develop command of his right arm; arm strength is not in question. He has more of a slender build due to his length (6'2"). The good news there is he has the opportunity to put on 30-40lbs easy. Playing at Cartersville & in one of the toughest regions in 5A, he'll always have opportunities to be seen. He has a weapon flying under the radar in JaMauri Brice. Brice has the talent to take any Russell ball to the house.
Brodie McWhorter, QB, Cass HS, 6'2" 190lbs – Obviously, we have a great deal of respect for McWhorter being named to our National Top 102 prospect list. Further, he was one of only two prospects (Johnson, see below) to make the list without holding an offer. As we said in his initial write-up, he truly has a golden arm and that alone will keep him on most recruiting boards. The accuracy jumps off the screen not to mention he is faster than you might think. Love the arm, developing poise in the pocket and the sky is the limit. Good news for McWhorter heading into his Sophomore year is he'll be playing behind one of the best young OL's in 5A along with absolute dudes on the perimeter in UGA commit and 4 star Sacovie White as well as D1 bound and do everything, Devin Henderson.
Kail Ellis, OL, Cass HS, 6'4" 285lbs – Ellis might just have the most upside of anyone on this list.  We just mentioned Brodie McWhorter's talented young OL he'll throw behind… Ellis is a foundational piece. Along with another standout freshman tackle, they form what might be the two best freshman OL prospects on one team in the entire state regardless of class. Left to standalone, Ellis is a Top 5 prospect OL in Georgia as it sits today. The best thing going for Ellis is he graded out as a D1 OL in our height-weight matrix and appears to only be getting bigger. As we all know, good or bad, size matters at the P5 level & Ellis has it. The next thing going for Ellis is he works on his craft and finishes blocks. Check the film…if he gets engaged and locked on, he will finish the block. As he continues to develop, Ellis is quite possibly the next man up in terms of offers to OL in GA. We honestly feel once he's "discovered", he may have as many options to choose from as anyone on this list.
Michael Johnson, QB, Dutchtown, 6'1" 165lbs – We like Johnson. Being the other non-offered prospect on our Top 102 list, we like him a lot. As a freshman, Johnson led Dutchtown to the state semi-finals in 5A competition, finishing 12-2 overall. He has a humble confidence that's on full display when he takes the field. He has enough of an arm, strength and accuracy wise, to make all of the necessary throws but it's his coolness under pressure that jumps off the screen for a freshman – for us at least. It's like he can't be rattled. Given how good of an athlete he is, it's great to see eyes downfield in the diciest of situations. He will undoubtedly be high on everyone's boards.
Kade Wigginton, South Paulding, QB, 6'0" 190lbs – Wiggington was behind talented 3 star and Colorado signee, Kasen Weisman this past season, but appears to be poised to take over the reigns his sophomore campaign. We've seen Wiggington grow up around the state and make noise in doing so. Most recently, we saw him at the Georgia Elite Classic as one of the top QB's in the state for the class of 2026. Great poise in the pocket, strong arm and accurate. Not to mention, he can get himself out of trouble when necessary. We expect big things from him going into the spring & see him potentially as a Top 5 QB in the Peach State.
Sager Quinn, Calhoun, 6'2" 240lbs – It's not often a freshman makes a difference on a Calhoun Yellow Jacket team, but that's exactly what Quinn did. Not only did he make a difference, but by the end of the year he may have been the best DL on that squad. Quinn is PHYSICAL. He is strong, tough & uses his hands extremely well, shedding blocks at the point of contact. The big question is where he does he project at the next level? We feel his best position might just be nose guard or even an H-back type of position given current size. If we go to NG, for the P5 world, they'll obviously want more weight. If he winds up at H, he's pretty much where he needs to be other than potentially another fraction of height at the highest levels. Wherever and whatever he does play, you get a motor and production.