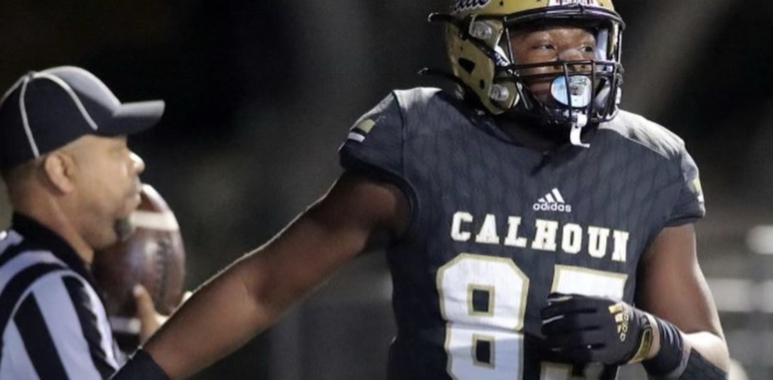 Class of 2025
Football
High school
Cooking Up Something Special in Calhoun | Emaree Winston
As we shift our attention to the 2025 class, Emaree Winston's film jumped off the screen. Winston is a 6'3" 235lb prospect hailing from Calhoun, GA. Emaree just finished up his sophomore season at Calhoun HS starring as a TE, DE, and even wound up running some wildcat type formations for the Yellow Jackets. We caught up with Emaree to talk about everything going on in the world of Winston and to see what he's "cooking up"…Winston let us know how much he likes to cook.
We see Winston pegged as a P5 TE and his offers certainly back it up, but Winston spoke about his versatility. "I get moved all around – QB, running back, slot…everywhere," Winston said. Given that versatility, we can see why so many schools are hunting him down. What was interesting was asking about his offers, he was very content with the offers he has, stating that he was "happy with the ones that I have." I guess there's no attempt to stack here, just to stack. That said, there were two that really stand out. "Ohio State and Tennessee," Winston came forth when pressed about his top 1 or 2 that currently stand out. When asked if there was a dream school, his response was "I don't (have one). I will be happy wherever."
While it was easy to see Winston is a content young man, grateful for what he has earned thus far, he continues to work to get better. Playing at Calhoun, there is a championship tradition and expectations that come with that. He told us Calhoun holds the record for the longest consecutive region championships in Georgia with 18. He does breakaway from the game and the expectations to find some downtime. When that downtime comes, you can find him in the kitchen…cooking. Winston's inspiration in all that he does comes from his mom. He raved about how hard she works to provide for him and his sisters.
His favorite players are Jaheim Bell and Princeton Fant. He sees himself in those players – they get moved around a lot and in the backfield. Beyond the players, he is really appreciative of all coaches. We asked him what coach has made the biggest impact on his life? He responded, "My tight ends coach, CJ Collins."
Given his star power, we assumed Winston would have a busy spring and summer ahead. We asked if he had any visits planned or camps he would be attending in the summer. Given his contentment, we weren't surprised by the answer. He said, " Not planned…I just up and go, lol."
The content chef from Calhoun…Emaree Winston has a very bright future ahead of him.