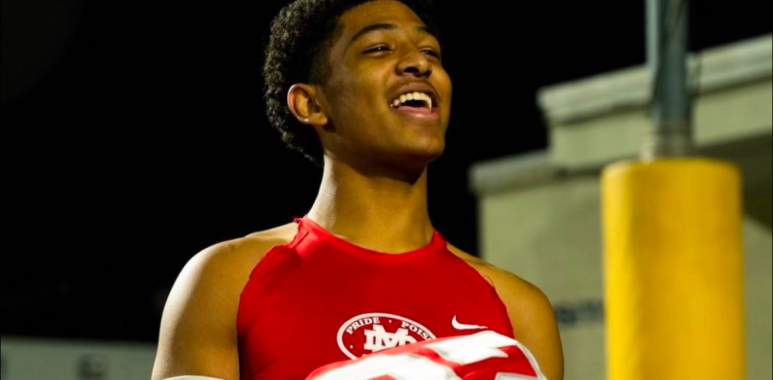 Class of 2026
Football
High school
Ranked
Big Things are just around the Corner for Lavender
Cory "CJ" Lavender was recently ranked as the #5 DB in the nation for the class of 2026 (#16 overall). CJ is a freakish athlete hailing from Mater Dei High School in Santa Ana, CA. He now holds 11 offers as a freshman including UGA, Penn State among several others. We held a Q & A with CJ via Twitter to get some inside information on him, his game & his top influencers.
We asked what separated himself from the other top players in his class? He responded, "I see this as my job and every time I step on the field I see it as me working and the end result will be me getting paid." Of all the offers he's received, he really likes Georgia and Colorado. We asked him if there was a school or two that he's waiting to get an offer from or hope to receive from one soon? CJ said, "I have a couple of dream schools which consist of Alabama, Georgia, Oregon and LSU."
With an athlete like this, it's no surprise he is drawn to players at his position. "My favorite player is Jaylen Ramsey. I love his game and he is the best corner in the NFL in my eyes."
Outside of his job being one of the most dominant players in his class, CJ enjoys some downtime consisting of fishing, going out on the jet-ski and going on trips. One thing is for sure you can tell his family is important. He enjoys hanging out friends and family and when asked about his biggest inspiration, "Pops." He went on to add, "My biggest inspiration is my Pops. He is a very good man, has good energy and is there for his family at all times. He makes sure we are always good and everybody loves him."
We finished by asking CJ about Mater Dei others might not know. "We are one of the hardest working high schools in the country which is part of the reason we are so good."
Driven, determined yet grounded. CJ has a bright future in this game we call football. We're glad to have a front row seat to watch his development.