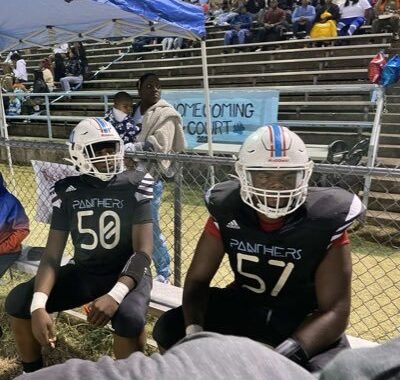 Class of 2026
Football
High school
Ranked
Jarvis Strickland: A Rising Star from Chattanooga
Jarvis Strickland is a rising star from Brainerd High in Chattanooga, TN. You can't miss him. He's already between 6'5"-6'6" and weighs over 280lbs. Recruiters at the D1 level can't miss him either. Originally ranked by our staff as a 4-star prospect and the #4 OL prospect in the country, we thankfully didn't miss him either. He posted a flurry of offers on Sunday, February 12th which caught our attention.
In his Twitter feed, yesterday, he posted offers from Austin Peay, Tulane, Charlotte & Liberty. This was in addition to already being offered by Kentucky, Ole Miss and Louisville our staff was aware of. We asked if he was aware of those offers coming?  Strickland said, "I was actually out of my Twitter for a little bit (so I) posted those out yesterday." It almost made us feel better.  We know recruiting never ever stops, but four offers on Super Bowl Sunday?  Nonetheless, he now sits on 7 offers we're aware of.
While he's a 2026 and recruiting is just getting started, we went ahead and threw out the early/current favorite. "No favorite, currently." Beyond that, he seems to be taking it all in and taking it slow. We know that's tough to do, but he's got a very level head. Even with all this momentum, he currently doesn't have any visits or summer camps lined up. Watching his tape, he excelled on both the offensive and defensive line. He did set the record straight, he prefers OL. Even though nothing is lined up yet, don't be surprised to see Jarvis in 1 on 1's at camps around the southeast this summer.
Beyond the recruiting and the offers, Jarvis offered up some praise for us at Deuce Recruiting, a Born to Compete brand. He pointed out the fact that he and others have benefited … seeing the number of guys on our list get invites and offers. "I feel like the rankings did give me and the other people on the list a lot more exposure." We look forward to expanding those rankings in April. While our goal was to produce a true early ranking for the class we've followed for a long time, it's been great to see the benefit to and the gratitude from all the prospects involved. This class is truly special.