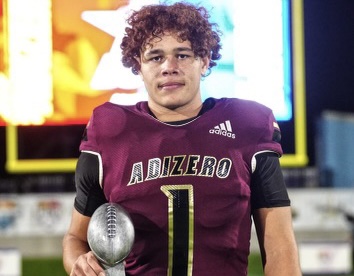 2022 FBU All American Game powered by Adidas Recap
Photo courtesy of Football University
Adizero took down 3Stripe in a back and forth match up where Adizero pulled away late, 39-23 in the 2022 version of the FBU All American Game powered by Adidas. Going into the matchup, we felt the skilled positions were fairly even. With phenom Julian "JuJu" Lewis sitting out, it tilted the scales toward Adizero. Let's face it, JuJu would've made a significant difference. He's just that guy. Inside the box, we felt Adizerohad a potentially better a front 6, defensively, but 3Stripe had the better offensive line to combat the talent. We're splitting hairs talking about the difference between apples and apples with caramel dipping sauce when discussing who had the better squad, but nonetheless, the stars rose to the occasion. We take a quick look at Adizero and it's standouts.
Team

Adizero

Recap
Mount Rushmore of Adizero
Malachi Toney – When Adizero needed a play, whether it was a first down, touchdown or simply move the ball, it was Toney who was the one doing it. It was reported he had 144 yards receiving and 2 TD's which seems less than it felt. He was simply unguardable, has the twitch and leaves no doubt as to why P5 programs are clamoring over him.
Tyler Atkinson – There was a play, "his play", where Tyler on the near hash runs to the trips side and makes the tackle behind the LOS. We tried to Pythagorean theorem our way into the yards he ran and the few seconds it took, but nonetheless when you see comparisons to Will Anderson type get-offs, it's no exaggeration. He simply plays the game at a different speed. Even when Adizero was struggling to run the ball, it was Tyler who went in in a wildcat type formation.
Jahkeem Stewart – He had a sack, QB pressures, TFL's but it was pure awe just looking at him on the field. He's a legit 6'6" 280lb dude that can move. His length is like tentacles that just go on and on. There's no doubt whatsoever this dude has the SEC world clamoring over him and he's just a freshman.
Carter Emanuel – All QB's were in a constant state of pressure, but something happened later in the second half where Emanuel started to emerge as the guy. He made some good throws early, but it was like the game slowed down and he sped up. He made a huge run by way of a scramble that led to a TD that seemed to put the game away. We always say compete – Emanuel's 2nd half, opened our eyes.
Big Uglies
The OL is by far and away the hardest position to play in these types of games. Gel in 3 days over a few practices, with guys you don't know, learn a playbook, figure out pass pro schemes with guys you've never worked with going against the elite of the elite coming after the QB. That said, to make it even harder, standout Center Langston Hogg went out with a freak eye injury during Saturday's practice leaving the group even more shorthanded. There's no doubt having Hogg would've made a big difference. That said, there was one guy that reall caught our eye – Ryley Kester.
Ryley Kester – We don't have a verified HT/WT on him, but he was one of the most sound dudes in pass pro most of the week. He's listed at 6'4" 265lbs, but he plays big because of his skill. Being left on an island, he held up as much as one person could all game as well.
Other names to know or names that impacted the game
J'Zavien Currence – He's been on the scene for some timenow, but it was apparent the hype was well founded.
Brody Bocek – While making live notes, it was written "9 screen tracked him down." He showed excellent closing speed and is a name you'll see more as time passes.
George Kelly – running backs weren't finding many holes, but "his play" a screen pass that Kelly turned into a receving TD screamed athlete. It was one of those moments that was completely unexpected leaving you to pick up your jaw off the floor. I guess there's some athlete's coming from Massachusettes!
Bryson Davies – Davies put together a nice game, but his play actually came on special teams where he lowered the boom on the return man showing his physicality matched his athleticism.
Team 3Stripe Recap
Mount Rushmore of 3Stripe
Bryce Perry Wright – The guy gets better everytime we see him out there. (& bigger) He's a legit 6'3" 245lbs of muscle blended with athleticism that's uncommon. On top of an acrobatic pick 6, he played the 3T, DE but lived in the backfield of Adizero. He was also named Defensive MVP for the game.
Deuce Geralds – Sort of like the aforementioned Wright, the dude is just a football player. Great week of practice, great reps and production on the field. Also like Wright, he lived in the backfield but "his play" most would miss came on special teams as a front line KOR guy. He obliterated a kid. For a second, I was worried the kid wasn't ok. Deuce showed why he led 7A football in sacks.
Jake Kreul – Starting to see a trend here…our 3rd top guy goes to Kreul. Another solid week of practice turned into a steady steam of production. It appears he had about 5 sacks and was virtually unblockable. A little undersized compared to Wright and Geralds, but production was just as good.
Dezephen Walker – Steady runner all game long, but his play came on 3Stripes first offensive TD of the game. What appeared to be an inside zone got bounced to the outside and no one on Adizero could catch him. Elite speed!
Big Uglies
Give a lot of credit to the whole crew – Pena, Schlef, Haseotes, McWhorter, Townsend & Wolford. This group provided pretty good protection considering the circumstances & was able to open holes for the running game. Three names that stood out most –
Bear McWhorter – Probably the most hyped of the offensive line, he was on an island most of the night, he performed extremely well. "His play" was once again using his quickly increasing athleticism on a tunnel screen. He almost beats the ball, kicks out the corner taking him 10 yards down the field. It appeared the corner had to subsequently leave the game with a neck injury after the hit.
Mason Townsend – Of all offensive lineman in the game, Townsend was the most undersized. Listed at 6'2" 240lbs, he was giving up 40-50lbs per opponent. That didn't stop him. "His play" that grabbed our attention was a simple inside zone where he looked like he may have been in a stalemate, but Townsend is a technician. Townsend was able to refit, keep his legs moving and ultimately pancake the defender.
Brock Schlef – Snap counts, snap it self and oh yeah, block. Playing against some of the best 2026 DL in the country, Schlefcontinued to fight. "His play", that came on a TD for 3Stripe, was the inside run that bounced. Nobody told Schlef who took over the block from the guard and is seen several yards downfield firmly affixed to the top of the defender – Pancake. Between 6'2" and 6'3" weighing around 275lbs, Schlef is getting close to P5 size with the work ethic and talent to balance it out.
Other names to know or names that impacted the game
Jayden Petit – Long, athletic, smooth and responsible for a receiving TD.
Preston "PJ" Carey – Big. Really big. He faced double teams most of the night but clogged up running lanes in the middle that throttled the Adizero rushing attack.
Carter Quinn – We got a lot more than expected out of Quinn. First time seeing this prospect live and walked away impressed. Very undervalued on the mobility side, makes quick decisions and live arm.
Luke Crudgington – 45 yard FG that was good from 55. He really kept 3Stripe in it early with his powerful leg. He will ultimately lead a team to a game winning kick on national TV.