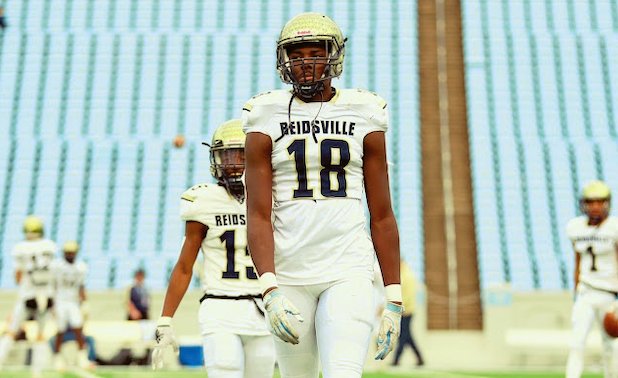 Class of 2026
Football
High school
Kendre Harrison is North Carolina's Next Big Thing
Twitter: @SupremeDre8
Kendre Harrison is a matchup nightmare. Standing at 6 foot 7 and weighing in at 230 pounds, the freshman TE/DE out of Reidsville High School in NC is one of the most intimidating figures in all of high school football. Harrison is also a standout basketball player, currently averaging 23.5 points and 13 rebounds per game. He's a star both on the gridiron and the hardwood.
Being a multisport athlete has paid dividends for Harrison. "It helps me be physical and it helps with my conditioning", he said. "I don't really get tired a lot." Harrison also credited the two sports for helping with his hand-eye coordination. There's a strong pipeline of basketball players excelling at tight end, with players such as Antonio Gates, Tony Gonzalez and Jimmy Graham. Harrison models his game after Georgia's Darnell Washington, who also played basketball in high school.
Harrison is fresh off a successful first season of high school football. His 5 receiving touchdowns were third most on the team, and he also led the team with 9 sacks. His Reidsville Rams made the state championship, but Harrison expects more for the next season. "I want to improve and be a better leader, improve in places my team struggle in and I struggle in, and win a state championship."
Harrison uses every bit of his 6 foot 7 frame to dominate on the football field. His highlight reel is chock-full of him overopwering defenders to go get the football. But his biggest skill isn't one that jumps out on tape. It's his leadership. "Even being an underclassman, I help lead a lot," he said. "Step up, play big. If someone's down, I pick them up."
All of these skills have made Harrison a top recruit for the class of 2026. He already has 4 Divison I offers, from Louisville, Wake Forest, Old Dominion and Penn State. His offer from Penn State is his most recent and high profile to date. "Their tight ends coach followed me about a month ago, and he was just liking my stuff," he said. "He liked how I moved, and not a lot of people can move how I move at my size, and he wanted to offer me."
Kendre Harrison has a bright future ahead, no matter what path he takes. Being talented in multiple sports makes him one of the most sought after high school athletes in the country. While playing both sports in college is an intriguing option for Harrison, he recognizes the challenge. "If I had the chance to I would, but I'll most likley choose football," he said. "I like the atmosphere in football, being in the stadium on those Saturdays or for bowl games, just being in there is an awesome feeling." No matter what path Harrison chooses to take, he's going to be a big name and even bigger figure.