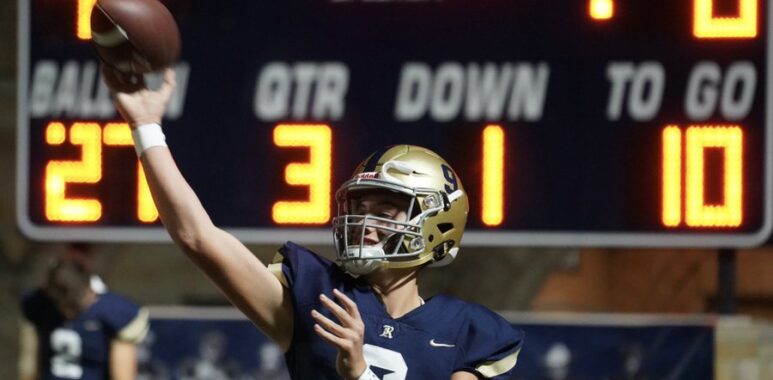 Class of 2026
Football
High school
Quinn Murphy | Lone Star State's '26 Star Quarterback
Quinn Murphy | Lone Star State's '26 Star Quarterback
Twitter: @Quinn_Murphy_26
Quinn Murphy is a 6'0, 170-pound class of 2026 quarterback at The Regents School out of Austin, Texas.The young quarterback led his team to a 10-0 regular season and into the playoffs. Murphy has made a lot of noisearound the high school scene in Texas, and he has the numbers to show for it. This regular season he had over2,000 yards, 30 touchdowns, and not to mention only 3 interceptions. So, Murphy has the numbers, but not onlythat… he has a mindset to match.
Murphy just finished up his freshman season as starting quarterback for The Knights. When asked what his goals were going into the season, he said "the first step overall was just winning the job so that I could get theopportunity to play on the varsity level." Murphy made it a point that he had to prove himself to secure that position on the varsity team, and he has made it known that he is here to stay.
Murphy received his first official offer from Louisville back in June of this year. It's not surprising due to his talent and competitive nature, but he still has three more years left to play at the high school level; three more years for college coaches to notice the skill Murphy has. He says that getting his official offer from Louisville was like "opening the doors for all the other schools coming in so that they know they can start to look at me." Murphy isdreaming big and is open to all opportunities that come his way. He had an unofficial game day visit a few miles east of Austin in College Station at Texas A&M. He described his time there as nothing short of amazing, and said that the Aggies staff and coaches treated him "like I was supposed to be there." Despite his offer from Louisville andexperience at Texas A&M, Murphy says he's "not set on where his destination is." We can only expect the young standout to have many more avenues to choose from.
Murphy not only believes in sharpening up his skills on the field but has a strong sense of the importance his mindset plays as well. He takes a lot of inspiration from Tim Tebow and says that they have similar beliefs and ideas. With lots of time to show his abilities as a quarterback, Murphy plans on spending a lot of time this off-season growing and getting even better than he was this season. He says a lot of his off-season will be used to get bigger and faster, as well as studying film from the season. His goal for him and his team next season is to "go 10-0 in the regular season again and then go back and win state."