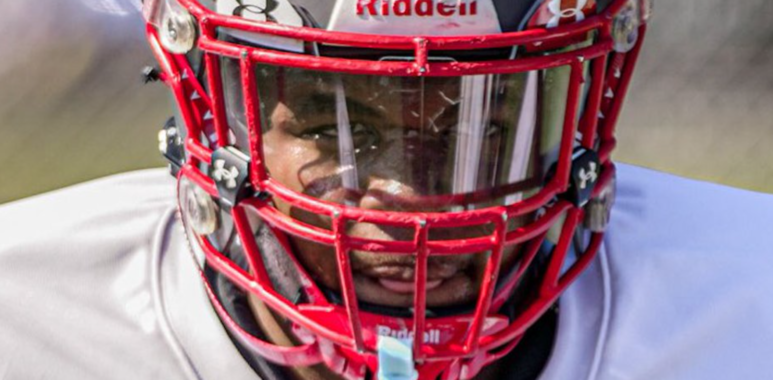 Class of 2026
Football
High school
Darius Gray | On Field Brutality, Off Field Humility
We talked with Darius Gray, OL/DL from St. Christophers School in Virginia about recently being named one of the Top 20 players in our initial rankings and caught up with him on his recruiting. Loved going back and forth with him…as a physical bruiser on the field, he was quite humble and appreciative of everything that has come his way. It's important to know, we had a difficult time initially about his future and what position he would play. He literally could become a future All American along the offensive AND defensive line. As Coach Downs says, "he's that guy."
He  was already well-known holding offers from Virginia Tech, Penn St, Virginia, South Carolina, North Carolina, and Maryland. The offers are well founded. Standing at 6'5" 285lbs, he already has the size to go along with the bend and most important, physicality. He literally tosses people off the view of the film. We asked him about the importance of being named as one of the Top 20 players in the nation for the class of 2026. "It's a blessing – thank you guys for honoring me. I still have a lot of work to do to be in that #1 spot!"
On Recruiting…
Given the size, film and already being known, don't be surprised for Gray's offer list to pick up very soon. With the offers he currently has, he doesn't have a favorite but referenced how hard of a decision it will be. Only a freshman, he also has noticed his offering school's hospitality. "They're all very respectful to not just me but my family also." We followed up and asked was there something special about offering schools. He said, "Having them this early could be special. I appreciate every school that has reached out to me wanting to play for them."
Looking forward, we asked about schools he's hoping to receive an offer from or schools he's got his eyes on that haven't offered. "There is always a school that you favored when you were little and having Florida State and Oklahoma would be a dream come true because these two were my favorite teams a few years ago!" Call us crazy, but I can imagine he'll be hearing from FSU and OU sooner than later. Who wouldn't want close to 300lbs of humility off the field and pure brutality on it?
We asked about visits and college camps this summer. As of the moment, he doesn't have anything planned in the immediate future, but he did let us know he would be attending The Universities of Alabama and Georgia's summer camps.
We will bet he will finish as a Top 5 lineman for the talented class of 2026. We also would bet that a recruiting service, potentially even us, will eventually name him #1. Gray is special. Whatever school he enrolls at 3 years from now will truly have a plug and play prospect.