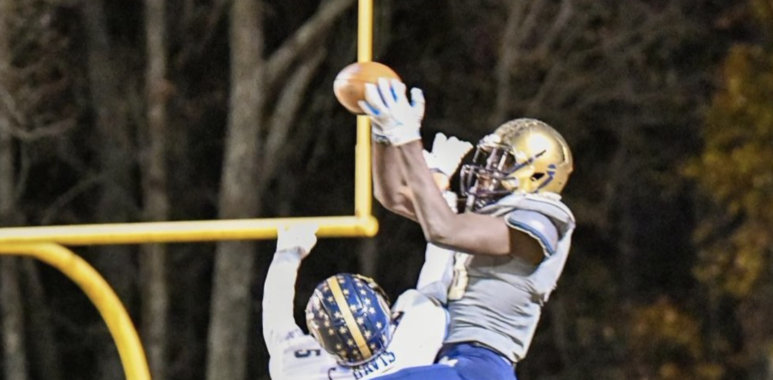 Class of 2025
Football
High school
Ranked
Kendre Harrison | Length Like This Doesn't Grow on Trees
We spoke with Kendre Harrison, our initial pick as the top TE prospect in the country for the class of 2026. He's 6'7" 230lbs…and yes, a freshman. Talk about a matchup nightmare on Saturdays. I can't imagine was DC's are doing on Friday nights and will have to do for three more seasons. He is another guy, depending on development, that could also work his way to the defensive side of the ball. Length like this just doesn't grow on trees!
We asked him what it meant to him to be named the top TE in the country? Harrison responded, "Feels great being recognized as the #1. I just gotta stay #1." With effort on his part given the rarity of his measurables, we don't see that being too farfetched. As with any player, development is an on-going process, but he has a big head start!
On Recruiting…
His currently has five offers including Wake Forest, Louisville, ODU, Penn State, and Oregon. We asked him if there were any schools currently on top? He said, "Definitely Penn State and Oregon." We didn't get a reason behind the answer, but who wouldn't want to play in Happy Valley for James Franklin or be part of everything Oregon has to offer –  especially with new HC, Dan Lanning? He did mention he liked the fact that Wake Forest has seen him work in person and offered him thereafter.
We're not calling them dream schools, but we did ask if there were any offers he is hoping to receive – or schools with that haven't offered that he has his eye on? Harrison said, "Yes, I'm hoping to get UGA (Georgia) and Ohio State."
To finish, we asked about the near term future regarding spring visits and summer camps. As of the moment, Harrison doesn't have any definite plans of where he'll be, when. That said, it won't be due to a lack of invitations. Our bet is most schools across the country will want to lay eyes on this prospect and somewhere shortly after, more offers will come. Like we said, length like this doesn't just grow on trees!
twitter: @SupremeDre8