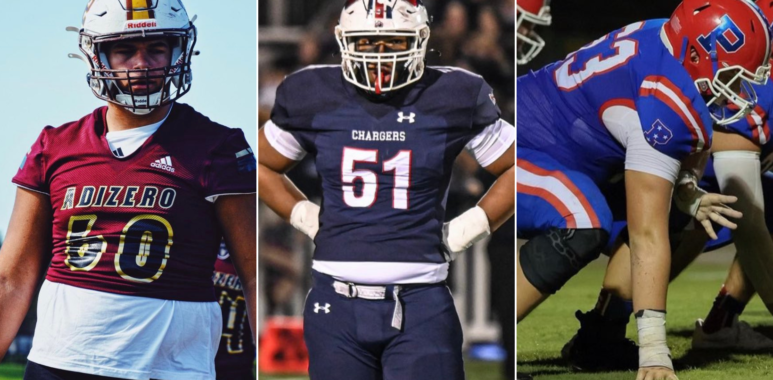 Class of 2026
Football
High school
As we've said before, offensive linemen are a lot of times the last position group to be offered. Beyond actual ability and intangibles, there is a size component at the top level that cannot be ignored. As such, schools often wait to see how much prospects fill out, grow, and grow into their bodies. We take a look at six 2026 OLs that picked up their first offer (some added onto it from there) during their first offer season post first varsity season.
Maxwell Riley (Avon Lake, OH) – strongly considered for the initial T102 list, Riley is a 6'5" 265lb grown man in Ohio. After adding his first offer from Toledo near the end of January, he then picked up Florida State, and Miami. I think it's safe to say he's on the national stage now.
Cody Taylor (Greenwood, AR) – we wrote about him before and technically, he received his first offer right before the new year, but it was hours before. The physical performer from Arkansas added not one, not two, but three offers total during the offer season. Kentucky, Ole Miss, and Memphis all stepped up to the plate. Taylor is near 6'3" 280lbs.
Kail Ellis (Cass, GA) – we wrote about him before as well, saying he was next man up. After raising his stock at the national combine, our #2 ranked OL prospect in GA is starting to pick up steam. As it turned out, he was the second OL in GA to receive an offer. Like Taylor, it wasn't just one. He received South Florida and EKU. Ellis is around 6'4" 285lbs.
Grant Wise (Pace, FL) – Wise has been on our radar for some time. He is a strong, physical lineman standing close to 6'3" and weighing 290lbs. Check out his Twitter vid to see how he strong he is…he mauls a 315lb power clean. In mid to late January he added his first offer from Coach Golesh and the new staff at South Florida.
Jake Namnun (Delran, NJ) –  Namnun, a 6'2.5" 275lb OL, parlayed a solid freshman season and FBU All American game into offer #1 for 2023. ACC member, Boston College, made the offer. After receiving his first offer, he celebrated with another wrestling victory that night.
Miles Funderburk (Providence, NC) – Funderburk was a state champ, a standout at the FBU All American game in Naples late in December, and Deuce rated #9 overall prospect for the Carolinas… all of that translated into offer #1 from Charlotte. He is 6'1" but weighs over 280lbs with a mean streak you just don't find every day.