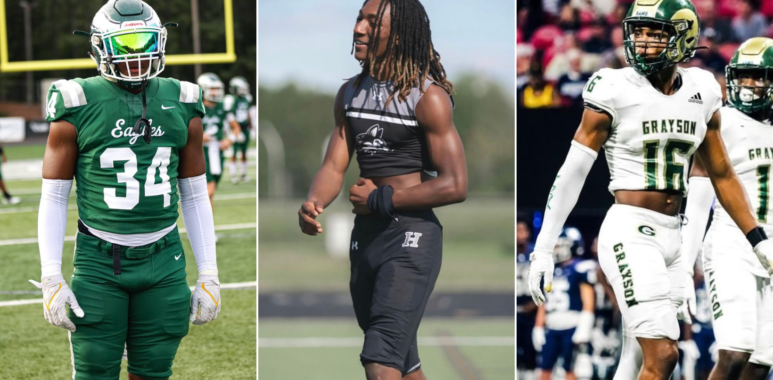 Class of 2026
Football
High school
Defensive Prospects Heating Up
We continue with prospects that heated up this winter. As we said, coaches were in schools and hosting visits on their respective campuses. In Volume 2, here, we take a look at guys on the defensive side of the ball from our initial T102 and beyond.
Defensive Line
Deuce Geralds (Collins Hill, GA) – No relation to us, but we wouldn't be ashamed. Geralds holding an impressive early offer list continued to see it swell during the start of 2023. Auburn, LSU & UAB jumped in – not to mention earning defensive player of the year and MaxPreps All-American.
PJ Carey (St. Anthony's, NY) – He held double digit offers going into 2023 and comes out of offer season with several more. Auburn, South Carolina & Pitt went in for this giant of a freshman.
Bryce Perry Wright (Buford, GA) – I'm not sure if there was a hotter name during offer season than "BPW."  We initially rated him as a 4 star and one of the Top 25 prospects in the country. That almost feels disrespectful given the month he had. Auburn, Ohio St, Michigan, Pitt, Florida, Arkansas, and others all offered.
Anthony "Tank" Jones (St Paul's Episcopal, AL) – One of the few we felt we missed, Jones took a national combine invite and turned it into a springboard of opportunity. Arkansas, Missouri, Georgia Tech, Georgia and others stepped in. Expect to see this name more and more in the future.
Tyler Atkinson (Grayson, GA)
– Our #1 rated national EDGE defender had just as an impressive offer list as JuJu and offer season continued to bring more. Already holding a host of top rated programs, he stacked UNC, Georgia Southern, Colorado, Arkansas and others.
Defensive Back
Samari Matthews (Hough, NC) – He was one of our Top 15 national guys and it showed up during January. He looks like "him" when he walks on the field. His offer list in January also says "him." South Carolina, Wisconsin, Colorado, NC State and others all jumped in during January.
Zechariah Fort (IMG, FL) – He was well celebrated prior to January and the ranking is now a foregone conclusion. He's a dude. Arkansas, Louisville, Texas A&M, Bama, Oregon and more all extended offers.
Tay Lockett (University City, CA) – He was tabbed as our initial top DB. His offer list was already impressive but he continued to add on as the month went on. Oklahoma, Colorado, Cal, Miami & several others made their pitch for Lockett's services.[/vc_column_text][/vc_column][/vc_row]