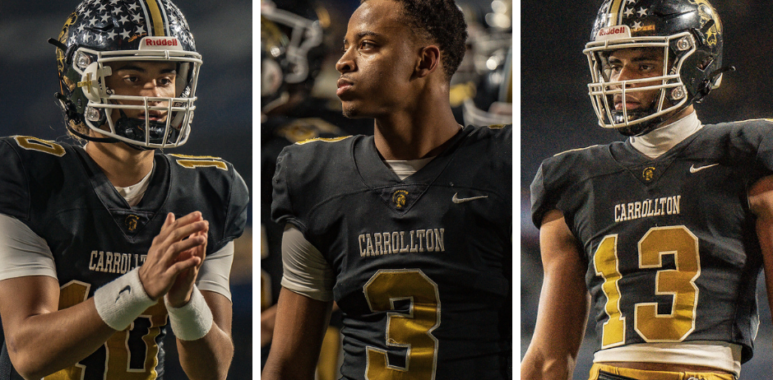 Football
Georgia
High school
Carrollton Offense: Among Georgia's Best
Georgia consistently produces outstanding players in every position, making it a hub for top-tier teams, offenses, and defenses each year. In this mix of excellence, one cannot overlook the Carrollton Trojans, a perennial powerhouse.
Leading the way for Carrollton is Julian "JuJu" Lewis, the number one quarterback in the entire country for the class of 2026. Despite being a freshman, Lewis already earned attention and received a college offer. In his freshman year, he threw for over 4,000 yards, 48 touchdowns, and boasted an impressive 65% completion rate.
Carrollton's offense was among the best last season, largely due to Lewis. Going into the 2023 season, the team retains its offensive weapons, including Caleb Odom, an Alabama commit standing at a towering 6'6″. Odom's size, combined with surprising speed and acceleration, makes him a formidable target for Lewis.
The running back, Bryce Hicks, is another key player, often underrated but a true game-changer. Hicks is versatile, excelling at both running and catching passes out of the backfield.
Playing an essential role in facilitating the stars' performances is offensive tackle Godgift Dudley. A premier pass protector and skilled at blocking downfield, Dudley paves the way for players like Hicks.
With the number one quarterback in the nation and a wealth of talent to rely on, Carrollton's offense is expected to remain top-tier this season. Anticipate impressive numbers and a high-ranking position among Georgia's offensive teams.