Aaron Gregory Is A Game Changer On Both Sides Of The Ball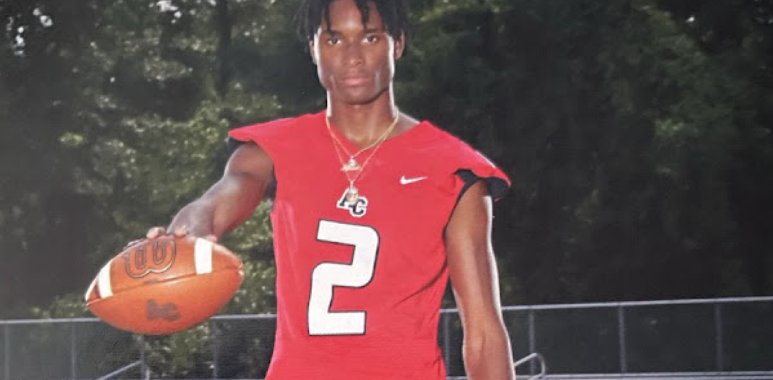 Twitter: @AaronGregory_07
Instagram: @aarongregory_07
Aaron Gregory hardly takes a snap off. He is both a star wide receiver and safety, and one of the top young players in the country. A freshman at Augusta Christian in Georgia, Gregory relishes the opportunity to be on the field as much as possible. "I can make stuff happen on both sides of the ball," said Gregory. "I can go up and get the ball and I can take the ball away at the same time. I like that I can be a game changer both ways."
Gregory made game-changing plays all season long for Augusta Christian. As a receiver, he led the Lions with 32 receptions while finishing second on the team in receiving touchdowns with 3 and receiving yards with 271. As a defender, he had a team-leading 2 interceptions and 4 passes defended. Gregory is pleased with how he played his first year on varsity, but has eyes set on an encore. "For this next season I want to reach at least 1,000 receiving yards," Gregory said. "That's a big goal I'm trying to work on."
Gregory struggled to pick a side of the ball he preferred playing on more. "I would say receiver, because there's more to do, more craft to work on," he said. "I really do like both sides though. I won't just single one out."
While he's only played one year of varsity football, colleges have already started to take notice of Gregory. He has nine Division 1 offers, from the likes of Kentucky, Arkansas, Boston College, South Carolina, Penn State, Virginia Tech, Florida A&M, Maryland and Mississippi State.
In early November, he got to visit his dream school, Ohio State. "It was good. They showed me around all the facilities, they let me sit through the meetings and I got to meet all the coaches," he said. "I thought it went well." Another notable visit for Gregory was when he visited Maryland on his 15th birthday. He received an offer from their coach while visiting. "It surprised me because I wasn't expecting it, and it was on my birthday so it was a great present."
With three seasons of high school football left, Aaron Gregory has no plans of slowing down. "I want to get bigger and better my craft" he said. Playmakers with Gregory's combination of size, athleticism, smarts and intensity are in high demand, and there's no doubt that Aaron Gregory will be changing games for years to come.