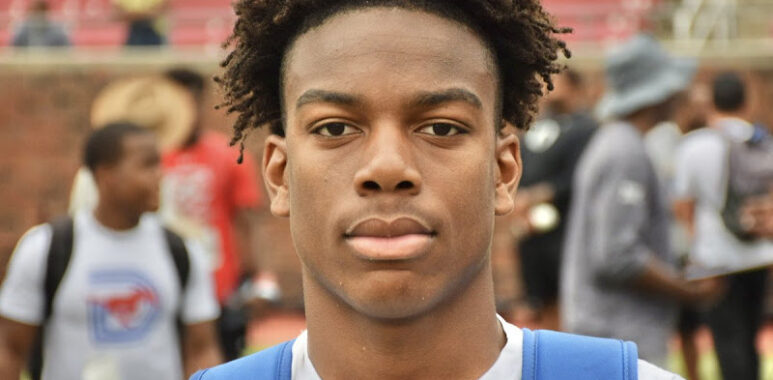 Class of 2026
Football
High school
Caleb "The Jet" Smith Is A Standout ATH From Allen, TX
Twitter: @caleb_jet
Caleb "The Jet" Smith has always wanted to stand out. "A lot of people have the name of Caleb Smith," he said. "When I was 8 my dad wanted to give me a nickname to stand out." It has proven to be a fitting nickname for the freshman ATH out of Allen High School in Texas.
"I'm fast on the field and on the track," said Smith. He has the results to back up those claims, being clocked at 10.57 in the 100 meter dash. "I play fast, I use my speed a lot," he said. "My favorite move is stiff arming, and I like to juke people. When I'm defending, I'm patient, I look at the hips." Those skills have made Smith one most enticing prospects in the class of 2026.
Smith is listed as an athelte, playing as a wide receiver, defensive back and kick returner. "I like receiver because I like having the ball in my hands," he said. While his athletic gifts are great skills to have, Smith also stresses being a technically sound player. "I really want to work on my route running, getting off the line easier," he said. "I'm going to be playing against bigger guys, stronger guys, I just need to get off the ball and get open."
With his first season of varsity football under his belt, Smith has three offers: Utah, Incarnate Word and Texas Tech. He's grateful for the offers he has, but is hungry for more. "I want to get at least 35 offers," Smith said. "I've always been a die-hard Texas fan since I was 5." Between his love for the Longhorns and its close distance to Allen, Texas is Smith's dream school.
"It's really fun to play and see all the people support our hometown" said Smith. High school football is paramount in Texas' culture, and Smith relishes the chance to be a part of it. He keeps a list of goals on his phone to motivate him to keep working towards his dreams. "I want to break a lot of records at my high school. I want my MaxPreps at the end of the year to become a 5-star." With electric speed and a motivated mindset, Caleb Smith will continue to stand out.