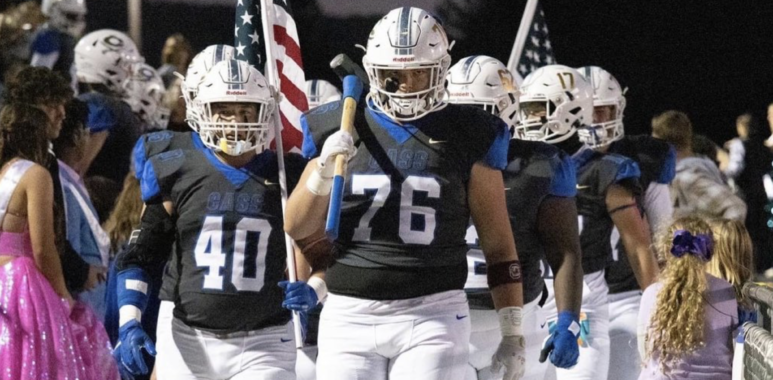 Class of 2026
Football
High school
Ranked
Bear McWhorter | Sustains, Sustains, Sustains
We caught up with Bear McWhorter, Cass High School in GA, about recently being named as one of our Top OL prospects in the country for the class of 2026.  For Bear, the honor is great but the work is far from finished.  "I really appreciate the recognition. I see other names I've played with or against who I have a lot of respect for.  I gotta keep working though – control what I can control."
Bear now stands 6'4" 290lbs playing the LT spot on the offensive line.  As Coach Downs mentioned in his BreakDowns segment, Bear "sustains, sustains, sustains" his blocks.  He has now been offered by Penn State, Tennessee, Ole Miss, Virginia Tech and Louisville.
Q&A On Recruiting…
Of your offers, do you have a #1? 
It's so early in the process I don't want to name a #1 right now. Coaches will probably change too but I see something special about each place.
What makes each one special?
Well, Penn State was my first offer. They will ALWAYS be special. Plus of all my offers, I feel like they may want me the most right now. Even Coach Franklin treated me like family when I was on campus. Tennessee is on their way back and it's hard to beat Knoxville on a Saturday. Virginia Tech – it's so different. Plus, when I went to camp I really liked Coach Rudolph's coaching style. Ole Miss and Coach Bolden treated me and my granddad like I was a 5 star while on campus last fall. Louisville's offer probably doesn't stand any longer because of the coaching change, but it's a great place and they just signed a guy from my area (Madden Sanker) that loves it and it's cool to see how much the fans love him.
Are there any offers you're after or schools you have your eye on?
If I never get another offer and can choose from what I have here, I'm blessed."
What's important?  
I feel like I'm supposed to really leave home. I love home and my family, but I feel like I'm supposed to do my own thing. I don't know if that's a long way or short way but it's a feeling I have. At this point, I'm just open to anyone that wants me.
But there has to be a dream school, right?
At this point, there really isn't.  I fell in love with Arkansas.  I don't know what it was, but there was a bond with that school and I really liked Coach Pittman.  I have no idea if they like me or not, but that school is still special to me.  My mom is from Columbia, South Carolina so I've always heard from her family and friend about the Gamecocks plus Coach Teasley is really cool.  Also I really, really like Coach 2J. (OL Coach at North Carolina St).
Do you have any spring visits for summer camps lined up?
I don't have anything scheduled right now, but I'll definitely be visiting any place that offers me.
---
---
Well, that being the case, expect a very busy next few years young man.