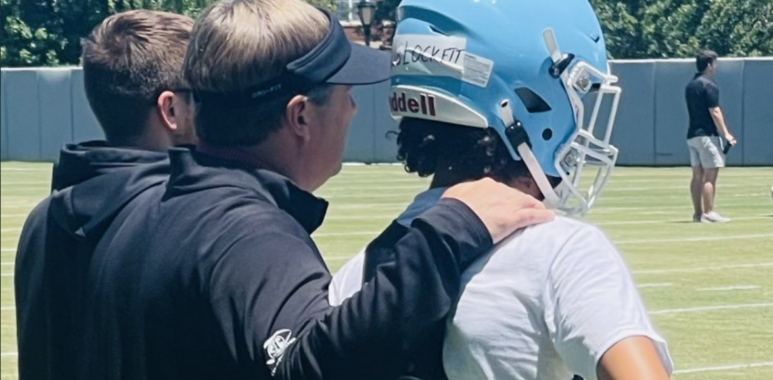 Class of 2026
Football
High school
Ranked
Tay Lockett | "You must be the kid from Cali"
We caught back up with Tay "Boogie" Lockett after being named one of the top 10 players in the country for the class of 2026 as well as our initial pick for top DB. Lockett currently holds many offers and is in demand for not only what he brings to the field as an athlete but also as a leader. As only a freshman, he's got the ability to put his teammates in the right position. He takes all of the accolades and attention in stride, knowing this is a journey aided by many others and that it's far from over.
"It is truly humbling and a blessing, with all of the glory going to God!!  My support system has also been a huge help.  Coast to coast, my family from California, Oklahoma, Arkansas and New Jersey have always had my best interest in mind and supported me on my journey.  It's only UP from here."
Q&A On Recruiting
You've had a lot of early offers – are there any schools on top right now? If so, why?
Yes, there are multiple schools at the top of my list but things might get interesting really soon. However, it's not just about playing the game of football for me. I am also looking at academic opportunities, school culture, the overall environment and, most importantly, how the school will contribute to my success outside of football as the ability to play this game can be stripped away from anyone at any moment. Tomorrow is never promised.
Is there anything special about some of the offers you have?  
UNC Charlotte was my first offer. Coach Marcus West, who's now with the Buffalo Bills, believed in my abilities and got it going for me and that will forever be a special moment. Florida State was my first Power 5 offer. As a DB, the history of DBs that have come from FSU is quite remarkable. They're also my dad's favorite team. San Jose State was my first west coast offer and first as a WR. Coach E. Scott is a real dude and showed me a lot of love on my unofficial visit up there. USC is USC. LA, the palm trees, the bright lights, Heisman trophy winner after Heisman trophy winner. What's not to like about SC? Being offered by Coach Dee after attending their camp was beyond special. The offer from Georgia was also very special. While at their camp prior to the start of my freshman season, Coach Smart walked up to me after a drill and put his arm around me and said, "You must be the kid from Cali".  What a moment that was!  I attend the Georgia-Tennessee game and, about 2 weeks later, the offer came in from Georgia.
Are there any offers you're hoping to get or schools that haven't offered you have your eye on?
I'm not really hoping to get offers as I'm interested in every school that is interested in me. Relationships are big with me and being wanted and needed are two completely different spectrums. Florida, Oregon, Texas, UCLA, Miami, Arkansas and Bama are schools that I'm paying attention to.
Do you have any visits lined up this spring or college camps you're planning on attending in June?
I'm visiting SC on the 14th of January, UNLV and Coach Marion on the 21st of January, Coach Prime on the 28th of January, and Tennessee in the beginning of April. I'm still working on getting my camp schedule together.
I hope the family has a good travel agent. Not just for the next couple of weeks and month, but years…because Lockett, to use the proverbial phrase, "is going places."