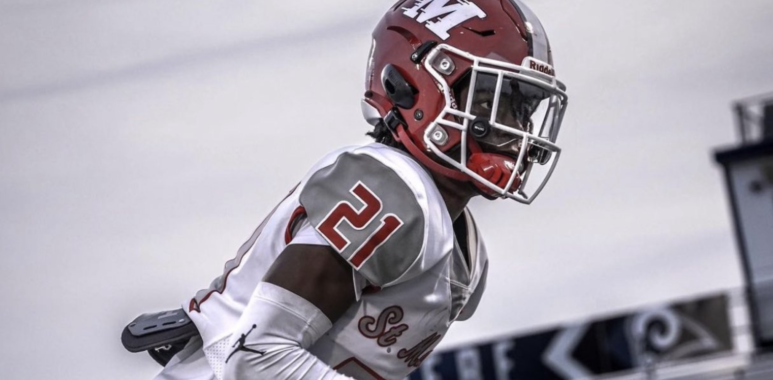 Class of 2026
Football
High school
Ranked
AJ Marks | A Michigan Produced Lockdown DB
AJ Marks, the self labeled, "2026 Premier DB" was just named to the Top 102 list by us at Deuce Recruiting, a Born to Compete brand. He had a humble confidence where he is grateful for the recognition, knows the journey isn't near completed while on a mission to prove his label correct. "I'm honored to be named to the Top 102. It shows that I'm one of the best football players in my class. It also motivates me to work harder to prove that I'm the #1 DB in my class."
Q&A on Recruiting
You've had early offers – are there any schools on top right now? If so, why? How many offers do you have?
I currently have 4 offers. Every offer I receive will be special because it shows they believe in me. The 4 that offered ready believe in me early but I don't have a top offer right now. I'm blessed to have them. My Dad says "You only need one".
Is there anything special about some of the other offers you have?
Every offer is special to me. The first one is always very special (Eastern Kentucky). I was offered by Bowling Green's Head Coach in person so that was cool and I'm very happy to get early offers from schools in my own backyard (Western Michigan and Central Michigan).
Are there any offers you're hoping to get or schools that haven't offered you have your eye on?
It's still early in my high school career so I'm happy to receive an offer from any college that wants me. I've been seeing Coaches from the Big 10, ACC, SEC, PAC 12 and BIG 12 following me on Twitter and IG. I'm just looking forward to my first Power 5 Offer!
Do you have any visits lined up this spring or college camps you're planning on attending in June?
I plan to make a lot of campus visits and attend as many camps as possible after track season is over. My goal is All State in both Indoor and Outdoor Track first. I will be on the Rising Stars College Bus Tour that will go to multiple colleges and my Dad and I are going to make a schedule of camps that I will attend. I can't wait to compete and show that I'm one of the top DBs in 2026! Michigan produces Lockdown DBs and I'm next.
There's no doubt Marks is special and will be a producer for a program in the near future. DBs that can be put on islands are in high demand with spread offenses being ran all over the country. For Marks, not only for himself but for his state, he's ready to claim his real estate.