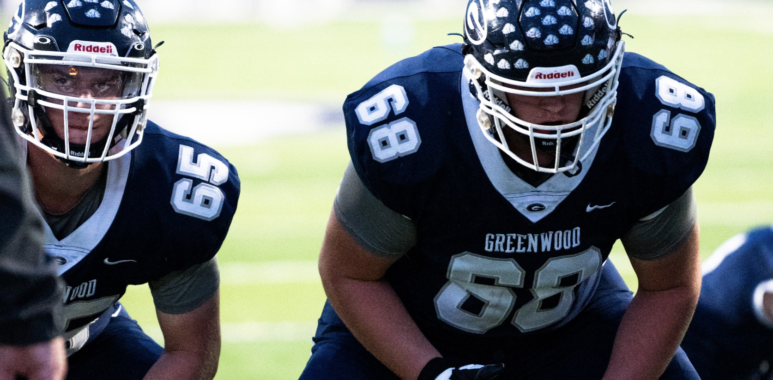 Class of 2026
Football
High school
As the offers begin to roll in, what's next for OL Cody Taylor?
Cody Taylor, a freshman OL starter for state runner-up Greenwood High in Arkansas, has started to make some noise in the recruiting world. We were well aware of him, giving him high marks when grading film in late November. We wrote an article, naming names, of OL bursting on the scene but still somewhat under the radar just a couple of weeks ago. He's roughly 6'3" 280lbs, strong and plays very physical for a freshman. In the last couple of weeks, he's been offered by Ole Miss, University of Kentucky & recently received a visit from Cody Kennedy at the University of Arkansas. As of press time, it's our knowledge that no offer has been extended by the Razorbacks, but with two SEC offers already in his bag – it won't be long.
We caught up with Taylor to talk about all that was going on especially how the offers came about and what's next. "Ole Miss was actually supposed to happen a little earlier than it did. I think with the portal and some upcoming coach moves, it slowed things down."  Former OL coach, Thornton, accepted the same position at Auburn. Ole Miss subsequently hired NC State's OL coach, Garrison. Even though Thornton moved on, it was apparent he liked what he saw & let the other members of the staff know before moving on. "(The offer) finally came from Coach Kiffin himself." For those of you not aware of how the early offers are made and process of doing so, we can unequivocally say that most of the time early offers don't come from the Head Coach.  This is truly is a sign of Kiffin and Ole Miss' interest in Taylor.  Obviously, Taylor was a little shocked. "Even though I knew it was coming, I was blown away when it actually did. You just don't believe it until it does and then it's pretty surreal." Emotional?  Yes. "I won''t lie, a little teary eyed."
Taylor was quick to point out the rush of emotions that lead to that moment, namely how he went back in time and though about all of his teammates, coaches – everyone that helped him out to get him to this point in his young life.  At the same time, he said he snapped out of it real quick realizing the work that was ahead of him. "I came back to reality just as quick. I know I'm still super young and have a lot of time before Junior year but it felt really good to be noticed and acknowledged."
Like most offers, where there's one, there's normally another.  The other, in this case, came from Lexington, KY via SEC East Kentucky Wildcats. "I was not expecting that one at all but was super thankful and excited to get it." While unexpected, big blue nation has left quite an impression. "I had quite a few of the Kentucky fan base reach out on Twitter wishing me luck in the recruiting process which I really appreciated.
Due to the offers, interest in Ole Miss and Kentucky has grown significantly. It's only natural. When you were a freshman and nationally known and ranked teams with star studded rosters and coaches wanted you, I'm sure you would've been interested.  I know I would have!  While not resting on his laurels, Taylor is hearing of other potential interest out there. "I can't really say at this time because they haven't reached out yet."  The portal is about to close which will provide clarity for a lot of schools and their rosters as they begin to take a deeper look at the '26 class. What's Taylor doing on the cusp of all the attention?  "I'm just continuing to work and get better at my craft while focusing on the classroom."
We mentioned the 800lb gorilla in the room early on…known as in-state the Arkansas Razorbacks. Taylor said, "as far as the future goes and schools of interest, obviously, I have to start with Arkansas." Although they haven't offered yet, Fayetteville is about an hour from his home and he has built a relationship with OL Coach Kennedy. "I started a relationship last year during a prospect day visit which he later cultivated a little more during the Arkansas Summer Camp." For Taylor, the relationship is more than just football. "He spoke with me about becoming a man, things to focus on in the recruiting process and making sure I do it with high character and the right way." Taylor is headed back to see Kennedy and the Hogs this weekend for another prospect day.
What's next? "I like what the SEC has to offer and I hope to visit quite a few this summer and next. Outside of the SEC, there are a few schools I'm interested in – Michigan, Michigan State, Penn State and Notre Dame."  He expects to make the rounds to numerous schools while things are still early. The big thing for Taylor is to learn, develop, and "see based on my skill where I would fit in best."  But for now, he'll focus on wrestling and geometry.