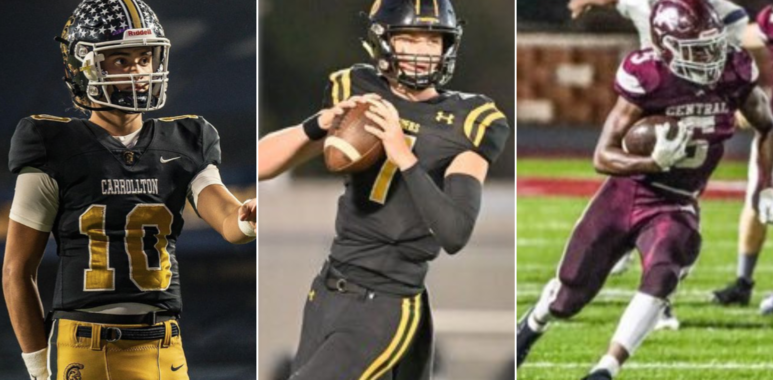 Class of 2026
Football
High school
Uncategorized
A Hot Offer Season for 2026
January may have been cold, but for some 2026ers, it was quite hot…continuing into February.
January has been a big offer season for some time. Coming off bowl season, coaches are on the road in schools and hosting visits on campus during the weekend. February is what's known as a dead period, but recruiting never stops – offers are still going out. In Part 1, we take a look at some notable offers, offensively, that came in for our initial T102 list as well as others that burst on the scene. Defense up for tomorrow.
Quarterbacks 
On one hand, QB's measurable needs have declined slightly. On the other, mobility, the feeling in the finger tips, mobility, how they deal with pressure all have risen. QB's are tough to figure out. No school wants to be last to the party, but at the same time you're only going to sign one, maybe two, at this position each signing period. Here's one that owns the recruiting chart and one that is quickly making the climb.
Julian "JuJu" Lewis (Carrollton HS, GA)- The heir apparent continued to stack offers after one of the most impressive lists we've seen for a freshman. After holding many of the top schools already, it didn't stop others from jumping on board. LSU, Purdue, Vanderbilt, Arkansas, Virginia Tech, Southern Cal, South Carolina…the list just goes on and on. At this point, I think it's safe to say JuJu can choose where he wants to go to school.
Brady Smigiel (Newbury Park HS, CA) – Coach Downs started to dig in to tape in January and mentioned this kid has "it." He thinks the ceiling is sky high. Others do too. Michigan, Georgia, FSU and others continued to jump in.
Running Back 
Another position where measurables aren't quite the need and often vary from school to school. Vision, burst, the ability to take a hit and keep going (balance) are a few that come to mind that everyone wants. Here's two that are ascending up charts coming off a big start to the 2023 year.
Raycine Guillory, Jr (Lake Ridge HS, TX) – The kid is bursting on the scene. He finished January off with his first SEC offer in Arkansas and opened February with Baylor. He'll continue to add more.
Jonaz Walton (Central HS, GA) – Initially underrated, he's climbing the charts across all boards. He picked up Bama, FSU, Texas and more. World, watch out.
Offensive Line
This position is hyper driven by size. One thing that's becoming more and more popular within this group is physicality. This on top of bend in the hips and ankles, ability to get to & block second level defenders, being able to get two feet in the ground and playing with your hands. Due to the size factor, OL are generally one of the last position groups to be offered so schools can see where they'll likely finish up. Three of our early picks had huge starts to the year. One in name and the other two in number
Keenyi Pepe (IMG, FL) – Our nationally ranked #1 OL "only" added two offers in January, but The Who jumped out & the fact he had double digit offers going into offer season. It's rare Bama offers a freshman OL, but they must have seen the same thing we did. Louisville also added an offer.
Bear McWhorter (Cass HS, GA)– Our nationally ranked #3 OL picked up as many offers as any 2026 OL in the country over this period. He added Arkansas, FSU, NC State and recently, UCF. This in addition to adding 1 offer every other week in the fall season.
Jackson Cantwell (Nixa, MO) – Cantwell now holds 6 offers and matched McWhorter with 4 coming from offer season until now. The U, UNLV, Kansas, and Texas A&M offered since January 1.
Tight Ends
Another tough position at times as most schools prefer big, long bodies that can run. Plus, a lot of times you see HS TE's that wind up as First round draft picks…at left tackle. The length and the athletic ability make them tough to defeat. As of now, these are two that possess those qualities and more in spades. Whether these two play TE, DE or LT; expect them to play big time college ball in just a few years.
Heze Kent (Brunswick HS, GA)- The world found out what we knew. He has legit D1 size. We don't have enough room to list all of his offers, but among them were powerhouses Alabama, LSU, Auburn & Georgia. He may have racked up the most of anyone in the country.
Kendre Harrison (Reidsville HS, GA) – Like Kent, he was on fire. FSU, Tennessee, Alabama – you name it, he got it.
Wide Receivers
Most have an idea of what they want their outside guys and slots to look like. As Coach Downs said, there are other factors as well. These are two dudes that continue to jump up boards and in conversation about being some of the best perimeter players in the country.
Malachi Toney (American Heritage, FL) – Toney was well known but for anyone waiting, they waited no longer. Michigan, Miami, Tennessee just to name a few jumped in on a big time future D1 player.
Naeem Burroughs (Bolles, FL) – Looking back Burroughs was one of the big 2 we missed. We won't miss him again. Georgia, FSU, Pitt, Michigan & UCF offered him in 1 week alone. He had a huge offer season, will have a huge Sophomore campaign and wind up being a highly coveted perimeter prospect in the near future.[/vc_column_text][/vc_column][/vc_row]